The 12th Annual Nebraska Star Party will be held the week of July 31st to August 5th, 2005 at Merritt Reservoir, 27 miles south of Valentine, Nebraska.

NSP has established itself as the premier summer dark-skies star party. In addition to excellent skies, Merritt Reservoir and the surrounding area offers many daytime activities for the entire family. We invite YOU to attend.




Photos and observing reports for NSP3 through NSP11 are available online.
One of the premier attractions of NSP is the fantastic view of the summer Milky Way. Though observers will obviously spend long nights at the eyepiece, expect to spend as much time just looking up in awe at the fantastic summer sky. The NSP Milky Way truly looks like an edge-on spiral galaxy and the central bulge is clearly visible.
Some observers have reported a limiting magnitude of 7.5 to 8 with the unaided eye!!
Read Dave Knisely's NSP11 Report for more details.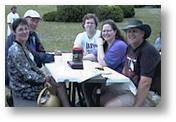 Are you new to astronomy? Don't have a telescope? If you've never attended a star party before, or if you've been to other star parties but need more information about what to expect at NSP, check out our Frequently Asked Questions page.
Located in the heart of the sandhills of north-central Nebraska, Merritt Reservoir is truly the pearl of Nebraska's lakes. Its pure water and beautiful sugar sand beaches offer great swimming and excellent fishing. In fact, Merritt Reservoir holds many state fishing records.